Traveling with pets can be a daunting task for you if you are not familiar with pet travel insurance and policy. Nowadays it has become very easy for you, as many hotels that accept pets are open all over the world. If you wish, you can also hire a nanny to take care of him during the trip. It is very important to keep this in mind when traveling with your beloved pet. Bring medicines, toys, and toiletries with you when traveling. Now, let me share with you some great tips and suggestions that can definitely help people traveling with their pets for the first time.
Find pet-friendly hotels
The trip should be planned at least 2-3 months in advance. Search online or check with your travel agent for available pet hotels. Pick a good hotel and read the rules.
Have Pet insurance
Pet insurance is very important to you if you are on vacation with your beloved dog or cat. Pet insurance can keep your pet safe. Animal seats can also be very helpful as they can take care of the animal while exploring the city.
Safety Restraints
Always keep your pet in approved carriers. If your pet is too big to carry, buy a harness that you can lock in your car. Always keep them in these chains. Never let your pet lean out of a window or sit on your lap while driving. These are extremely dangerous activities for your pet.
ID card
If your pet is traveling with you, an identification document is very necessary. You should always keep your pet on a leash when you are far from your hotel or car. Your pet can get really scared in strange environments, so it's important to pay close attention to all of its actions.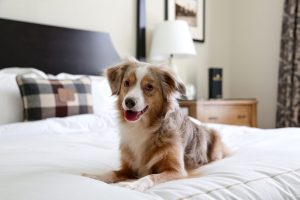 Rabies vaccination
Before leaving abroad, your pet should be properly vaccinated. First, all airlines have very strict rules and regulations regarding animal vaccinations. Check with your veterinarian for any vaccinations your dog or cat may need. I am sure that these tips will certainly be helpful when traveling with your pet.
Follow these guidelines when you have pets on the road to keep everyone safe and enjoyable travel with a pet. For more tips, check out the mobile apps to keep up to date on taking your pet on vacation. Plan several weeks before and be safe while traveling.