Canine grooming might be overlooked by many dog owners but you should never underestimate the importance of grooming your dog because it helps him to stay happy and healthy.
There are different ways of grooming your dog but the best way us to brush the teeth of your dog so that it does not suffer from any kind of oral issue. Therefore, you will need to find out how to brush a dog's teeth so that you will get rid of problems causing bad breath and more serious health problems including gum diseases and decayed teeth. Moreover, you should master the skills of brushing the teeth of your dog so that it will become clean and dazzling so that you will get a happy canine friend.
Brushing your dog's teeth will keep all kinds of dental disease at bay while making sure that the health and well being of your dog will also increase. Moreover, it is an important step of grooming that will reduce infection and inflammation of dogs that is the main cause of systematic problems. Therefore, you will need to select the right kind of toothbrush for your dog according to its size and breed for getting clean and healthy teeth. You also need to select good quality pet toothpaste that you should use in small quantities so that it will clean the dog's teeth.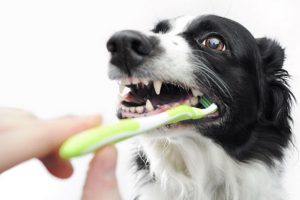 You should start brushing your dog's teeth from an early age so that he will get this habit early before the risks of cavities and periodontal diseases affect his teeth and overall health.
The best way of motivating your dog is with a reward so that he will look forward to his next grooming sessions and you will get a healthy pet at home. Moreover, teeth brushing should be done on a regular basis so that the dog will enjoy the session and will also look for the treat.