PET improves our quality of life and everything we do to improve the bond between our beloved animal and we will always be for the better. Those who have a cat as a PET question whether they should allow the cat to sleep in the bed.
The reality is that the fact that this adorable PET sleeps in the bed is very positive. The close contact with our cat has therapeutic and relaxing effects on our mental health. Keeping a good relationship with our cat will make him more obedient. We can educate our cat to behave well through simple TRAINING that he can fulfill.
As the cat grows we must impose rules of behavior on him that he can understand and apply every day. This procedure must be friendly so that the cat perceives the love we feel for him. This training must be constant since our pet must acquire positive habits so that they are part of his behavior. Letting the cat sleep in the bed is a good strategy to have a strong bond with him. Our PET must understand that there are things he can do and things he can't do. It is up to us to regulate his behavior so that he behaves well at home.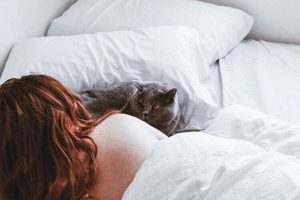 Good TRAINING starts from the moment the cat arrives at our house. He must understand that he can play and have fun but he cannot mistreat objects in the house. We must impose limits on our cat since he cannot do it by himself. If he misbehaves we can raise our voice and look them straight in the eye and tell him not to do that again. He will pick up on our anger and not do it again. As time passes our PET will acquire positive habits, achieving a beautiful home harmony.