A cat can become a loving pet for your entire family that is known to offer you a lot of enjoyment and excitement when you spend time with this feline friend.
But you should also take care of the cat which is very important for their health and well being. You might find that your pet is spending a lot of time sleeping and you want to find out why do cats sleep so much. This is an important question that you might ask yourself because you will find the cat sleeping in crazy and cute positions all through the day.
The most important reason is that the cat prefers to get enough rest as it is in the genes of these pets to sleep for about 15 to 20 hours a day.
A cat is known to spend the majority of their time sleeping all through the day since they are natural predators who spend time catching a nap while eating most of the time.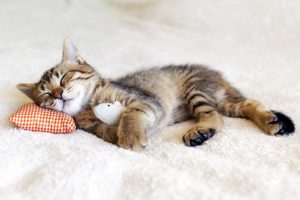 Moreover, sleeping is beneficial for their health and their sleep patterns are different from the other pets. After completing the required amount of sleep, cats are known to enjoy a healthy life while they stay alert all through the day for catching their prey. Additionally, the cat sleeps all through the day as it is their favorite pastime and they can sleep immediately after playing for a long period of time. Moreover, as the cat grows older, it becomes easier for them to fall into a longer and deeper sleep. Whether it is day or night, the cat can sleep anytime for adjusting to their sleep schedule without getting disturbed by the surrounding distractions. Getting into a deep sleep or opting for a nap will be determined by the overall health and well being of the cat.
You should care about the cat all day long by providing it with healthy food and ample rest all through the day.